Origin Capital, a senior debt fund for investment transactions between €3m – €20m, has marked the first anniversary of its formation in April 2015.
The company was established to provide a real alternative to traditional funding options in the Irish commercial real estate market. Offering clients the opportunity to deal directly with the decision makers, Origin Capital takes a flexible approach to lending grounded in commercial common sense. This approach cuts out bureaucracy, increases decision making speed and provides clients with certainty of execution.
Since its formation in April 2015, Origin Capital has lent over €65m to clients, and has a significant new business pipeline. The lending has been provided across a variety of industry sectors, including hotel, retail and residential, and in a variety of locations including Dublin and the rest of Ireland. The company's early successes were recognised in late 2015 when it was awarded the 'Best Newcomer' award in the 2015 InBusiness Editor's Choice Awards.
Sample transactions include:
Refinancing of a 4* hotel, operated by an internationally renowned hotelier, from a high street bank
Refinancing of a 175,000 sq. ft. retail park in a large provincial town from existing loan purchasers
Part funding of the acquisition of 35 apartments in a central location in Dublin 1
Refinance of a mixed asset portfolio (including retail, industrial, office and residential) in Dublin from an existing loan purchaser
Commenting on Origin Capital's first year in operation, CEO Ross Metcalfe said "We are extremely pleased to have had such a successful year since launching Origin Capital. With €65m lent to clients and a strong business pipeline, we believe we have successfully established ourselves as an alternative provider in the Irish CRE lending market. Based on this success, we are currently in advanced negotiations to secure a further tranche of funding to position the company for further growth".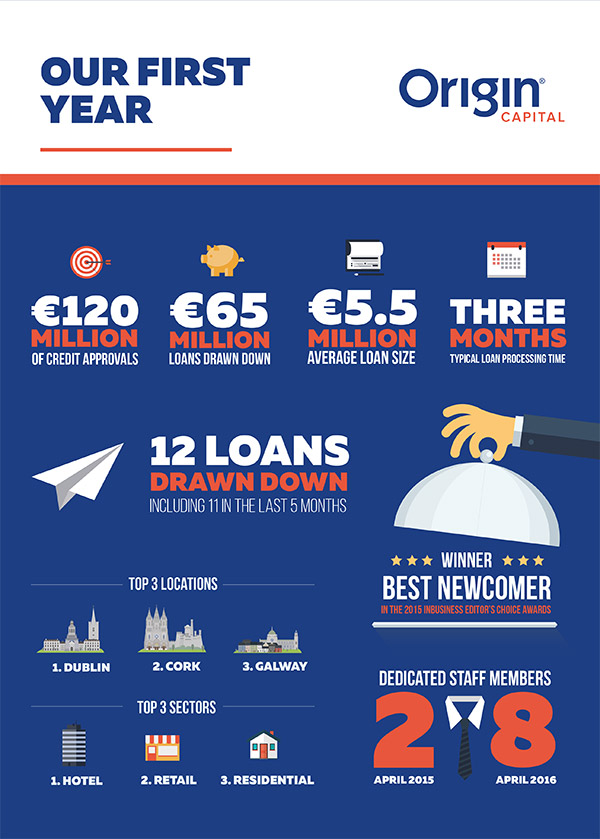 Origin Capital also produces the Origin Capital Weekly property review which has quickly become a respected source of information on key developments in the commercial property market, with 3,500 subscribers. A recent survey showed that 98% of respondents found the weekly report either 'extremely useful' or 'somewhat useful'.